After the selection of a mate, selecting the type of aircraft to build is an important life choice. A fair number of other builder's websites include some discussion of why those the particular make and model airplane to build. Since I am nothing if not a sheepish follower I thought I would do the same. It's important to point out that choosing an aircraft model to build is a complex calculation–not unlike dating–and, like how I met my wife, I fell in love with the RV-10 over the Internet.
Well, perhaps love is too strong a term. Many well-known advocates of aircraft ownership talk about choosing an aircraft based on your ideal "mission". Borrowing a term most associated with military maneuvers doesn't lend itself to expression of primal emotions. So, to begin with, I should state that my prioritized list of kit aircraft requirements looks something like this:
Something I can build that results in a safe aircraft
Gets me and my "bestie" places we'd like to visit in reasonable time
Gives me joy when I take the controls
Takes advantage of state-of-the-art technology
Reasonable construction and maintenance costs
Cool looks
The relative orientation of #2 and #3 is the result of living with both an airplane and a spouse. When I ordered the Maule I pictured myself flying around the PNW (Pacific Northwest), visiting remote grass and dirt airstrips "just for the heck of it". When I started looking for "the (human) one" I didn't really think about how she'd react. I just assumed that any sane person would revel in the ability to slip "the surly bonds of earth" because, well, d'uh! What I discovered is that "she who I am forever devoted to" was okay with flying as long as it had a purpose, like visiting a cool place (or at least getting an awesome dinner). I didn't want to make the same mistake twice.
Satisfying #3 is an allusive task. Joy can be measured in many dimensions and certainly there are times when flying is not joyful (I'm looking at you, low-level wind shear). Still, if you're going to spend this kind of money you really need to love the end result. In my mind one thing that contributes to joy is an airplane that's easy to fly 80% of the time. Pilots know the feeling of getting the power and trim just right so you can fly the airplane with one finger on the yolk or stick. I got to know my Maule well enough that this became subconscious and, when the winds were mild, created quiet a tranquil setting in the cockpit (the constant hum of a fuel-injected 540-cubic-inch engine notwithstanding).
One of the things that surprised me the most was how easy it would be to satisfy #4. Back when I gave up flying, "glass cockpits" were just starting to show up in light aircraft. The experimental market had led the way but, even so, the options available in 2004 were limited and relatively expensive and most builders were content to stick with traditional "steam gauges".
Fast-forward 16 years and my how things have changed! Pretty much everyone building an RV-10 is planning for a glass panel cockpit with integrated autopilot, XM satellite weather, cupholders–you name it! Many have elected to go with a Garmin avionics suite. The creators of the venerable G1000 series for certificated aircraft have an entire line of touch-screen based components for the experimental market.
Now we get to #1 and #5 on the list. In some respects they are related. There are a myriad of companies out there that will sell you aircraft plans or kits. Many more have come and gone. Those that have lasted have done so because they offer solid designs that mere mortals can reproduce as well as great support. This carries over into long term ownership. Something that's complicated to build in the first place is going to be hell to maintain.
There are numerous companies and designs that have the benefits of longevity and being able to fine tune the construction process which, generally speaking, breaks down along the lines of the main material used. There are still aircraft being built today using wood, steel tube and fabric. White it's tempting to think of wood construction as something from a bygone era, several designs like the Falco (designed by an Italian, obviously) demonstrate that wood can be beautiful.
My Maule, in fact, was a bit of a hybrid. It featured a fuselage formed from steel tubing a covered in fabric and aluminum wings.
Another intriguing material used more and more in aircraft these days is generally referred to as "composites". The Boeing 787 Dreamliner famously features a carbon fiber fuselage but most amateur aircraft builders don't have access to multi-million-dollar fabrication machines. Scissors, brushes, and squeegees are readily available, though, which helps explain the popularity of fiberglass construction.
The world likely has one person to thank for the acceptance of fiberglass as a aircraft construction material (not to mention a resurgence of muttonchops), Burt Rutan.
Before we was BFF with Richard Branson and designing vehicles designed to take millionaires to space (and hopefully leaving them there), Rutan designed and built several light aircraft using "mold-less composite construction", a fancy term referring the process of shaping Styrofoam into airplane-like shapes and slathering it fiberglass fabric and resin until it was as stiff as back back after a night in a hotel room bed. His designs, such as the Vari-eze and Long-eze developed a devoted fan base and inspired other designers. One variation I seriously considered for a time was the Cozy (all Rutan-inspired designed must end in a 'Z' sound).
The challenge with composite kit aircraft is that the builder needs to decide between two extremes: a mostly "plans" option, which is cheaper but requires more fabrication of major components, and a most "kit" option, where the kit provider does much of the complicated work–for a price. Both option result in a very sleek result and lots, lots of sanding. Either would have satisfied priority #6 but the latter was not in my budget. As such I would have been faced with a very complicated build with a material with which I had no experience.
That left what is probably the most popular–and historically voluminous–aircraft construction material: aluminum. While Junkers J1 is considered the first all-metal construction aircraft, the practice of building aircraft from metal didn't really "take off" until the 1930's. Driven by war, aluminum aircraft construction evolved into a process that anyone could accomplish. (After all, what was "Rosie the Riveter" riveting?)
The list of available aluminum aircraft designs is long. Aluminum is inexpensive and the techniques to make it conform to an aerodynamic shape capable of flight is easy to teach (though tough to master). For a time I was intrigued by a designed called the Mustang II. It was a plans-built aircraft, meaning you paid someone to send you a boat-load of blueprints and his best wishes that you had the talent and skill to follow them.
I actually ordered a set of plans, if for no other reason to fantasize about how I was a construction mogul (who wore suits with thin ties and drank martinis), but realized this was probably too big for me to take on. (See prior blog posts re: sanity.) That left choosing a design from an established kit plane supplier with a reputation for the ability of its customers to successfully complete and safely fly their designs (see priority #1). Enter Richard VanGrunsven.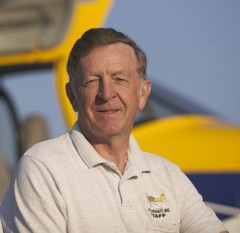 VanGrunsven was an engineer by training who was intrigued by amateur-built aircraft and, after tinkering with someone else's design, creating one of his own, the single seat RV-3, in the early 1970's. People took notice and before long he was selling plans and parts that he fabricated himself in a small shop. Over the years the company he founded grew and introduced more designs (there are now 8 distinct aircraft that one can choose from). In the nearly 50 years since Van's Aircraft started, over 10,000 aircraft of various models have been completed, an unequalled stat in the kit plane world. All that experience, combined with modern manufacturing techniques and a knowledgeable team of in-house experts (and a robust builder and third-party supplier community), has yielded airplane kits that anyone with moderate mechanical skills can safely construct. Priority #1 satisfied!
Now, having chosen a supplier, which model was right for me? Back in the early 2000's, when I first got the idea to build, the choices were pretty straightforward. Van's offered just a handful of designs, all two-seaters. The big decision was ultimately seating for pilot and co-pilot–tandem (one behind the other) or side-by-side. Having learned to fly in a Piper Cub (and being righthanded), tandem seating was appealing. You flew with your right hand and controlled the throttle with your left, plus the visibility out of both sides of the canopy was hard to beat. However, Van's tandem seat models, the RV-4 and RV-8 tended to be a bit cramped, which would be tedious on long cross country flights. As for side-by-side models, the RV-6 was van's most popular kit and the slightly roomier RV-9 was a great cross-country machine. With the exception of the RV-4 all could be built with either tricycle or convention (tailwheel) landing gear, giving me the option.
Then in 2003 Van's introduced a completely new (and for them) radical design–the four-place RV-10. It featured the usual aluminum construction but with the addition of a fiberglass cabin top and gullwing doors instead of a plexiglass canopy. It only came with tricycle gear and was not aerobatic, but was roomy and still fast, utilizing six cylinder engines, rather the standard four on other models. The added seats meant I could take my entire family (of 3) and our luggage to a destination of our choice. Along with the scaled-up capabilities came a scaled up price tag (not only for the kit but for the requisite engine and propeller as well) but when you start accounting for the cost to build any aircraft that meets your needs the numbers because abstract very quickly.
The RV-10 buzzed patterns in my brain for the decade or so I was out of the flying game until late this year when I began riffling through the mental file cabinets under "Aircraft: Building". As of last year almost 1,000 RV-10's had been completed and Van's has continued to refine the designs and plans. The aircraft has an exceptional accident record, with many issues attributed to builders not following the plans or making other stupid mistakes. While I had never flown in one (and demo rides had been suspended due to COVID) I had to put my trust in her reputation and what I could learn from her "online profile". After consultation with "she who will have to deal with a crowded garage for the next several years" I was given the steady green light gun signal (a little pilot joke). On your mark! Get Set!
NOTE TO THE READER: Thus ends the bulk of my ruminations for now. It's time to get into documentation the build process as it unfolders over the next months and years. Since this is likely to transpire in fits and starts (at least at first, while I await deliver of the next major component kit) be sure to subscribe to get notified when there's a new blog post: